ingo posting in

etsy
Hi everyone,
We reopened our shop at the start of the month and have a 10% off sale at the moment. Dreamwidth users get their own coupon code - DREAMTEN - and it's good until 10pm February 20th (AEST), although we might extend that.
We do all kinds of jewellery: Viking knit, wire crochet, polymer clay, wire-wrapped, beaded, and metalwork.
I put two small pics as examples of our work under
Hand forged sterling silver pendant with midnight blue druzy agate
Double Viking knit silver plate necklace with cream swarovski pearl and glass beads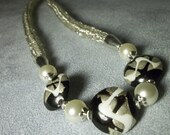 Our store is at
Fifth Heaven Designs
.
I'm also looking forward to browsing some of your stores :)